Thalgo Delicious Comfort Cream Claims:
A light, nourishing cream for dry skin which contains algae, shea butter, wild rose oil & borage oil. Rich in essential fatty acids, this cream gives a lipid boosts and hydrates deeply.
Pale yellow shiny cream
Fruity fragrance along with rose and ylang ylang scent
Instantly nourishing
Price: 2710 INR for 50ml
About Thalgo
Thalgo is a brand that originated in France with a belief that Sea is the "Chamber of Beauty Secrets" holding answers to beauty and well being. They trusted the potential of seaweeds (algae) which is filled with amino acids, vitamins and proteins to help and heal the human body. With this belief the researchers at Thalgo spent years to develop the Micronised Marine Algae [MMA] Powder which contains 100% Live Algae cells to infuse the goodness of algae into the skin. MMA is the key ingredient in all the products developed by Thalgo. They offer products for skincare, bodycare, sun care, men care and nutritional supplements.
For more information refer to their website http://oceamarine.in/
Image Source
My Expectations from Thalgo Delicious Comfort Cream: I have normal to dry skin with a flaky nose. I tried many moisturizers which helped soothe my dry skin but not the flaky tip of my nose. I expected this cream to be a complete solution to my flaky skin and also to provide moisturization that lasts at least for 7-8 hours in the Corporate AC environment.
Look & Feel
Fragrance: Not my type of fragrance as I couldn't detect either the fruity or the floral scents I prefer. It smells more like butter or ghee. It's not a bad or bothersome fragrance but it's just not my choice.
Texture: Did you ever get tempted to the butter shown in the GoodDay Butter cookies ad? If yes then this cream would be equally tempting because the texture exactly looks like the yummy butter shavings. Also it's an oil based moisturizer.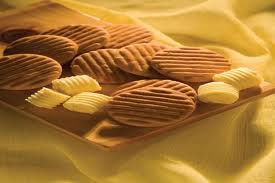 Image Source
Directions to Use: Apply morning and /or evening on a cleansed face and neck.
Delicious Comfort Cream Effects
Moisturization? Yes moisturizes the face thoroughly with little quantity and immediately soothes the flaky skin. But as I expected, it's not a complete solution to get rid of the flaky skin. For a complete solution it has to be used along with the 'Thalgo Moisture Quenching Mask' which would be reviewed soon.
Absorption? It instantly melts into the skin and needs very little effort to blend.
Lasting Power? On my dry skin it lasts for almost 12-13 hours even in a full AC environment but I need to re-apply on the flaky nose after 6-7 hours.
As a Prep Base? I have used in beneath foundation, sunscreen, BB cream and compact. It adapted well to all the products used.
Breakouts? In-spite of having dry skin I always get pimples when I use oil based moisturizer. With this none at all
Cost Efficiency? Pricey.
Final Note
For my dry skin it did provide better moisturization but because my major concern is flaky skin it didn't impress me as much as I expected it to be. Buy it if you want to quench your extremely dry skin without greasing your face.
Dear Readers: Let me know your opinion about "Thalgo Delicious Comfort Cream– Dry Skin" in the 'Will You Buy It' section and share your feedback about the review through comments.
Disclaimer: The product was sent by Brand PR for consideration, however this has not affected my opinion in any way. All the views presented are honest based on my personal experience.