Thalgo Comfort Softness Exfoliator Claims:
An exfoliator for removing dead cells and impurities.Contains Red Algae, Date extracts and jojoba micro-beads to exfoliate Sensitive/ Dry Skin.
Jojoba Microbeads gently exfoliate even the most sensitive skins
Velvety texture
Vanilla & rose petal fragrance
Free from artificial colorings, silicone, parabens, propylene glycol and mineral oils.

About Thalgo
Thalgo is a brand that originated in France with a belief that Sea is the "Chamber of Beauty Secrets" holding answers to beauty and well being. They trusted the potential of seaweeds (algae) which is filled with amino acids, vitamins and proteins to help and heal the human body. With this belief the researchers at Thalgo spent years to develop the Micronised Marine Algae [MMA] Powder which contains 100% Live Algae cells to infuse the goodness of algae into the skin. MMA is the key ingredient in all the products developed by Thalgo. They offer products for skincare, bodycare, sun care, men care and nutritional supplements.
For more information refer to their website http://oceamarine.in/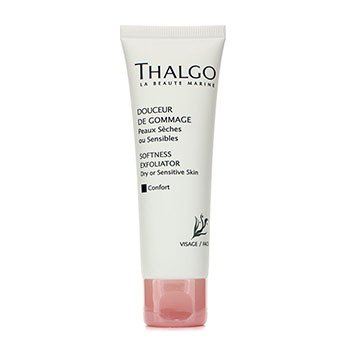 My Expectations from Thalgo Comfort Softness Exfoliator: I am a sucker for scrubs and anything that claims to exfoliate always grabs my attention. Initially I used to exfoliate twice a week using a scrub with coarse granules. But since the past couple of months I felt that my skin needs to be exfoliated daily and I have included daily scrubbing in my night skin care regime. I want my scrub to cleanse the pores deeply preventing blackheads and at the same time to be gentle on my dry skin. So obviously Thalgo Softness Exfoliator seemed to answer my needs of scrub and let's see how it fared.
Look & Feel
Fragrance: It has a pleasant fragrance that reminds me of the winter cold creams especially Ponds. I enjoy the fragrance a lot for it offers a refreshing feel.
Texture: It feels like a thick body lotion with such tiny micro-beads that are practically invisible to the naked eye. What surprised me is the abrasion offered by these invisible micro beads. Yes!!! they felt so powerful promising thorough exfoliation.
Directions to Use: Apply on the skin mixed with little water in circular movements. Rinse. Use once or twice a week.
Exfoliator Effects
Cleansing? Cleanses away every tiny particle of dirt and makeup. I always notice a brightened skin after I exfoliate with Thalgo Confort Exfoliator.
Exfoliation? All I want to mention is that in a week I noticed a visible difference in the blackheads on my nose . Also I love the silky soft skin it gives post exfoliation.
Drying? The exfoliator doesn't strip away the skin off it's natural moisture but at the same time it doesn't offer any external moisture. So, I definitely need to use a moisturizer post exfoliation.
Cost Efficiency? Yes it seems pricey but if you can afford it then you definitely wouldn't be disappointed.
Final Note
A solution to Healthy, Clear and Velvet Soft Skin.
Dear Readers: Let me know your opinion about "Thalgo Comfort Softness Exfoliator – Dry or Sensitive Skin" in the 'Will You Buy It' section and share your feedback about the review through comments.
Disclaimer: The product was sent by Brand PR for consideration, however this has not affected my opinion in any way. All the views presented are honest based on my personal experience.