Cotton Pads in Makeup Removal are as important as Brushes in Makeup. They make the cleansing ritual easy and harmless to skin texture.
Bella Says:
Bella Cotton pads will surely fulfill your requirements. They are exceptionally delicate, will not leave separate fibres on your face and their soft edges will not irritate your skin. Natural cotton used in the pads allows usage for every skin type. Embossments provide a sense of remarkable softness and gentleness. Distinctive binding string enables practical and hygienic storage of pads in a bathroom.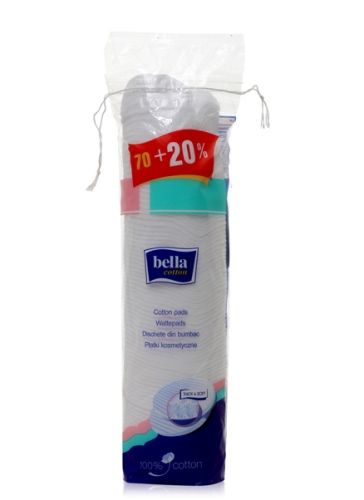 Review
Availability:
Online. I purchased from
MedplusBeauty.com
. Also available in
GoodLife.com
Price: 89 INR for 90 pads
Packing:
These cotton pads come in a cylindrical shaped polythene cover with a string attached at the opening. As it's a normal thread it comes off easily after few days of use. Hence not so convenient to hang it in the bathroom. Once the thread breaks it cannot be closed again. Also, the cotton pads are very closely packed so while removing you might pull more than 1 pad at a time.
Shape:
Round. The size and thickness is perfect to get a good grip of the pad.
Texture:
Soft cotton on one side and a cloth like stiffened cotton on the other side
.
Both the sides do feel soft to touch and doesn't feel harsh on face especially around the eyes.
Convenience:
Not suitable to remove stubborn eye makeup as the cotton separates easily and gets into the eyes. It's best suited for the application of toners, cleansers and makeup removers. But when used to wipe off any greasy residue the cotton separates once half of the face is covered and the wool spreads on the rest of the face.
Mannings Cotton Pads
Mannings Says:
Mannings super soft facial cotton is made from 100% pure cotton to ensure extra softness, hygiene and absorbency. Ideal for daily use in cosmetics, personal care and baby care.
Review
Availability:
Health & Glow Outlets
Price: 159 INR for 200 pads
Packing:
Comes in a rectangular polythene cover that can be opened and sealed back easily. The pads are loosely packed so doesn't stick to each other while pulling out.
Shape:
Rectangular. These are slightly smaller and thinner than the Bella Cotton Pads. I personally prefer the shape and thickness of Bella cotton pads.
Texture:
Soft texture on both the sides.
Convenience:
Can be used for applying skin care products. And while wiping the oily residues the cotton doesn't separate and spread on the face.While removing stubborn mascaras noticed the cotton getting separated but it's less and doesn't stick to the lashes.
Winner:
Mannings Cotton Pads undoubtedly scored over the Bella Cotton Pads in all aspects except in Size & Shape.
Friends, do you use cotton pads for makeup removal? Which one's are you using and how are they?